From 'Dopesmoker' to 'Jason the Dragon', Arik Roper is the man behind some of your favourite album art. He places the powerful established icons of rock art into a world that is unmistakably his own. Darkwülf found out about how he works, what makes him tick and what he's up to.
BR: What are you working on just now Arik?
AR: Finishing up a cover for Lesbian's new project ForesTelivision, doing backgrounds for an animated short film based on a Russian Fairy tale, working on a book cover, doing a print design for the Progressive Music Awards, a poster for Cinefamily Theater in LA, and Corrosion of Conformity new album art …. among other things.
BR: What have the reactions been like to your new cover for "Dopesmoker" remaster?
AR: Mostly good from what I've heard. There have been a lot of Dune and Star Wars comparisons, which is inevitable when you have a desert landscape and hooded figures in a sic -fi setting I suppose. I'm fine with those comparisons. The Tee Pee version, though a legitimate release, was my sole interpretation of the music. Back then I approached it from a more ancient/biblical/hash cult perspective, but the reissue is the result of the Al Cisneros and myself working together to achieve the vision of the music itself, something more fantastic to match the imagery of the lyrics, and music.
cont'd...
BR:. What music & artists inspired a young Arik Roper to go into the world and unleash his art upon us?
AR: So much stuff from all over. Early on mostly underground commix, Vaughn Bode, Crumb, Berni Wrightson, Jeff Jones, Frazetta, Heavy Metal magazine to name a few culprits. I was into classic rock, I grew up with it and a lot of that album art seeped into my psyche. I always like Roger Dean and Rick Griffin's iconic covers. I was specifically into Led Zeppelin, Pink Floyd, Jethro Tull , then got into the Metallica, Slayer, etc. during high school. I like escapist, fantastic art and music. I make no apologies for that, it inspires me.
BR: You have been involved in animation in the past; will we ever see an Arik Roper animated film in the style of your poster and album art?
AR: I hope so. All I need is a budget. If there are any investors out there who would like to fund a mind altering animated epic for the ages please get in touch.
cont'd...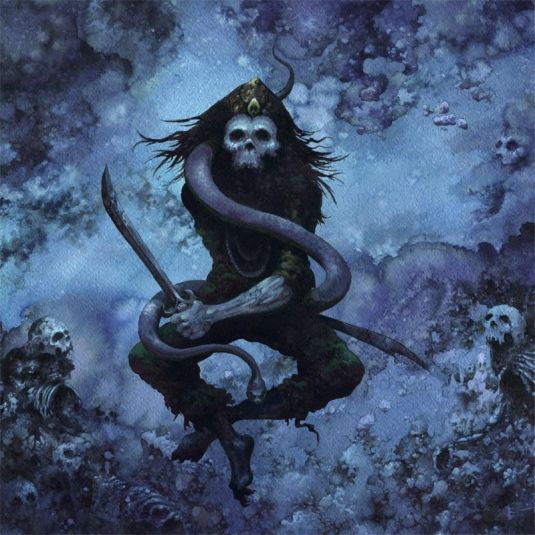 BR: Tell us about the process where your ideas come from to you actually drawing them, inking etc. Spare no details.
AR: The ideas come from brainstorming on whatever the project requires. I've got countless art and reference books that I refer to for inspiration. Sometimes the ideas might come to me from novels I've read, or mythology, religious imagery etc. This stage can be the longest step of the creative process.
Once I have an idea I move on to the sketch stage and then the inking/ coloring stage. I work on Arches 300 lb hot press paper usually. If I'm doing something with a hardline outline I'll use some permanent ink and a pen. Other times I paint directly on with the watercolors and use an opaque gouache to do highlights. There are stages of refinement after that, adding details on top, bringing out lights, darkening darks.
BR: Tell us about some of your favourite artists working today.
AR: There are some good ones out there today, and several who I like. I think Dan McPharlin's work is interesting. He's got a good Sci Fi feel and executes it nicely. He also does some nice paper sculptures of vintage musical equipment if I recall correctly.
BR: What album covers do you hold in high regard?
AR: Black Sabbath – Sabbath Bloody Sabbath. The imagery is pretty standard fare but Drew Struzan expertly does it.
Hawkwind- Hall of the Mountain Grill- I like Barney Bubbles' work, and that's on of my favorites by him.
Dr. Strangely Strange- Heavy Petting. I could choose any number of Roger Dean covers as my favorite but this one is especially nice due to the die cut sleeve.
Burzum – Filosofem. Theodore Kittelsen's art makes this album an aesthetically haunting experience, regardless of what you think of the musician himself.
Houses of the Holy- Led Zeppelin. Far from obscure but perfectly other wordly. It captures a lysergic mood perfectly. Hipgnosis does it again.
BR: How do you prepare yourself for working on a piece? It's impossible to ignore the psychedelic element to your work. Do you work under any influence?
AR: I don't do any certain preparation other than try to pay attention to the ideas that initially spring to mind, sometimes the gut reaction image is a good one to start with.
In terms of "working under the influence": Once you've done these substances enough to have real breakthroughs it just becomes a part of your thinking and output, and hopefully in a good way- a healthy integration. I think at this point everything I do whether it's overt or not has some "psychedelic" sensibility to it simply because that's who I am and how I see things. I can't actually work while under the influence of anything very altering because it's too hard to focus on the page, and it's not what I feel like doing if I'm in that mindset. I've done it many times of course, and I've used small amounts of substances to enhance the working situation but normally it's not productive to try and work seriously under heavy doses of anything. Except cannabis, which I don't really count, that's more like using a tool than using a substance.
cont'd...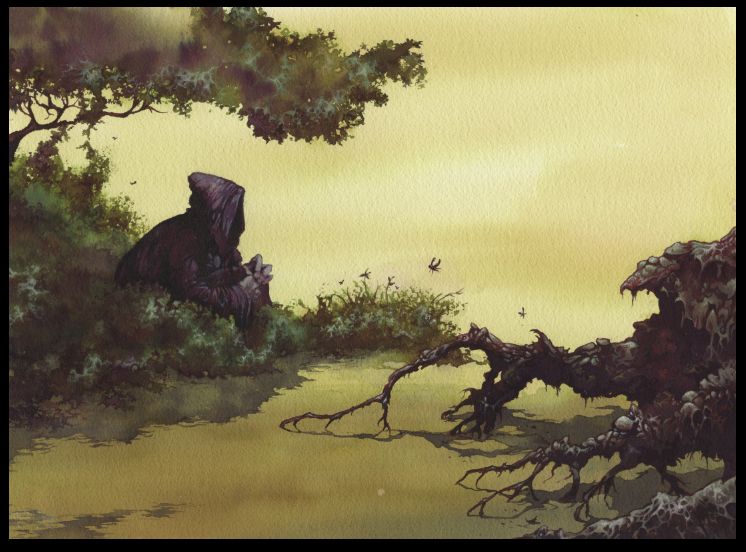 BR: Your tribute to the mushroom "Mushroom Magick" was an interesting read; do you have any plans to release more books?
AR: Yeah, a children's book for one, and some graphic novels.
BR: How did you get into doing art for bands?
AR: I guess it started with doing some flyers back in high school for some local bands around my town (Richmond, Virginia). I painted some guts for Gwar at one point. I became friends with Buzzoven and started doing some shirts and flyers for them then some album covers. They created a reputation for themselves and the art went along with it. Later I started working with a lot of the seminal heavy rock bands on Tee Pee records in get late 90s/early 2000s. It just grew from there.
BR: What has been in your opinion, your finest work to date?
AR: Hard to say, I'm pretty critical of my own work. I think the art for Jason the Dragon by Weedeater came out well, I just like that image of a dragon emerging from an opium pipe. It kinda sums up my aesthetic in some ways. I also like one piece titles Burial in Moss, I think I achieved whatever it was I was striving for on that one too.
BR: Favourite albums of all time?
AR: Pink Floyd- Animals and Meddle, Black Sabbath- Vol 4, Ash Ra Tempel first album, Band of Gypsys. And many more.
BR: Tell us about the genesis story of the artist known as Arik Roper.
AR: Hmm, not sure exactly how to recount the origins of my own existence. I was born to a couple of working artists in New York City. I grew up mostly in Virginia in wooded rural areas. I always knew I wanted to be an "artist" in some way, an illustrator primarily I guess. I spent a lot of time alone drawing from imagination, which my parents encouraged. I got really into music and the connection between visual art and music as I got older and explored. I gradually made art my focus and my career. Now I'm able to work in my own creative style as opposed to taking too much direction from an employer or being used as a tool by a corporate market for bland advertising. I just kept doing what I like to do, making the art I truly like, and fortunately others appreciate it enough to hire me to do it for them. That is success in my book.
cont'd...
BR: Does Iggy Pop have the best rock n roll cock?
AR: It's better than his beard, or I should hope.
BR: Fave beard in music?
AR: George Harrison's
BR: If you could play in any band ever, what band would it be?
AR: ZZ Top maybe, or Deep Purple. They seem like satisfying bands to play in.
BR: Plans for the future? Anything exciting in store?
AR: I might do a show in London next year.
And trying to make enough free time to work on some side projects such as a graphic novel.
BR: Will Rocco Siffredi ever appear in your art?
AR: No. I don't even know who that is.
BR: Tell us something about yourself you haven't told anyone in a review before.
AR: My first car was a Subaru Brat. It ruled. I've been waiting for someone to ask me about it.
BR: Is Darkwulf the coolest animated character in film history?
AR: You talking about the Fire and Ice character? Yeah pretty much.
BR: Thanks a lot for your time Arik! All the best with the future.
AR: Thanks.
Posted: Wed 26 September 2012